Weddings on the Croatian coast
Croatia is famous for its beauty and as such has endlessly diverse wedding venues and locations. There is something for every type of a couple, either you are a tradition lover or you are seeking for beach vibe wedding, we promise that Croatia won't disappoint you. You'll be amazed with its ancient churches, palaces as well with its untouched nature, greenery, beaches and unforgettable sunsets. Here are some of the famous locations:
SPLIT
Split's most famous location is Diocletian's palace bursting in history. It's quite amazing to see a city the size of Split having the heart of ancient Rome, complete with peristyle, imposing stone columns and city walls. The important factor for some may be the fact that Split is easily accessible via its international airport, so it can get quite busy during peak season. The solution is to find refuge in its many hidden venues that are off the beaten path, like Marjan park with its perfectly positioned Benedict (Bene) restaurant, hiding under the pine trees on the western seafront. But if you decide to get married in Diocletian's palace the best time of the day is at the dawn, before all the hustle.
Find your wedding villa in Split here.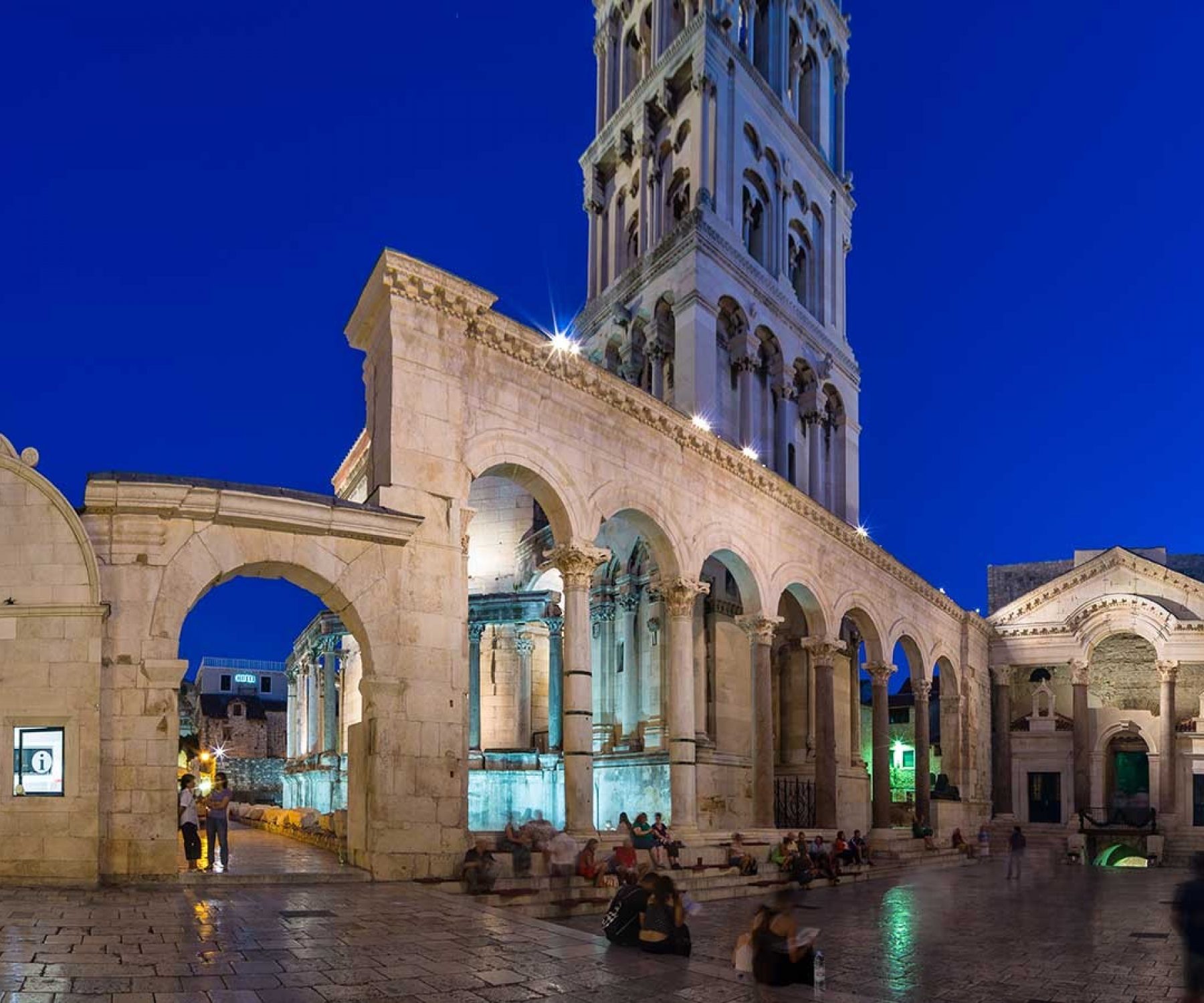 DUBROVNIK
Dubrovnik is home to probably the most popular Croatian wedding venues. It is a pearl among wedding locations with its city walls, terraces, historical churches and stone streets. More traditional couples can choose between 6 ancient churches in Old Town. Dubrovnik is also full of extraordinary villas that guarantee privacy. You can check some of them here! Choices are endless in Dubrovnik. You can choose to get married in Uvala Lapad that is situated in a more peaceful part of the town and surrounded with olive trees and sound of crashing waves or pick the viewpoint of park Orsula that overlooks all of Dubrovnik. For history lovers Sponza Palace is ideal place to say their I do's. It was built in 16th century and it is a mix pg Gothic and Renaissance style. It is located in the heart of Dubrovnik Old Town. Then there is The Rector's Palace, a gothic palace with renaissance-baroque reconstructions. Today it is the Museum of Dubrovnik, and in its beautiful atrium classical concerts are held during Dubrovnik Summer Festival. The gorgeous stone staircase with stone balustrade makes the atrium's coulisse within which your wedding could evoke memories of past times. If you are not already impressed, there are another options like city fortresses Lovrijenac and Saint John that offer a heightened and unforgettable experience.
Find your wedding villa in Dubrovnik here.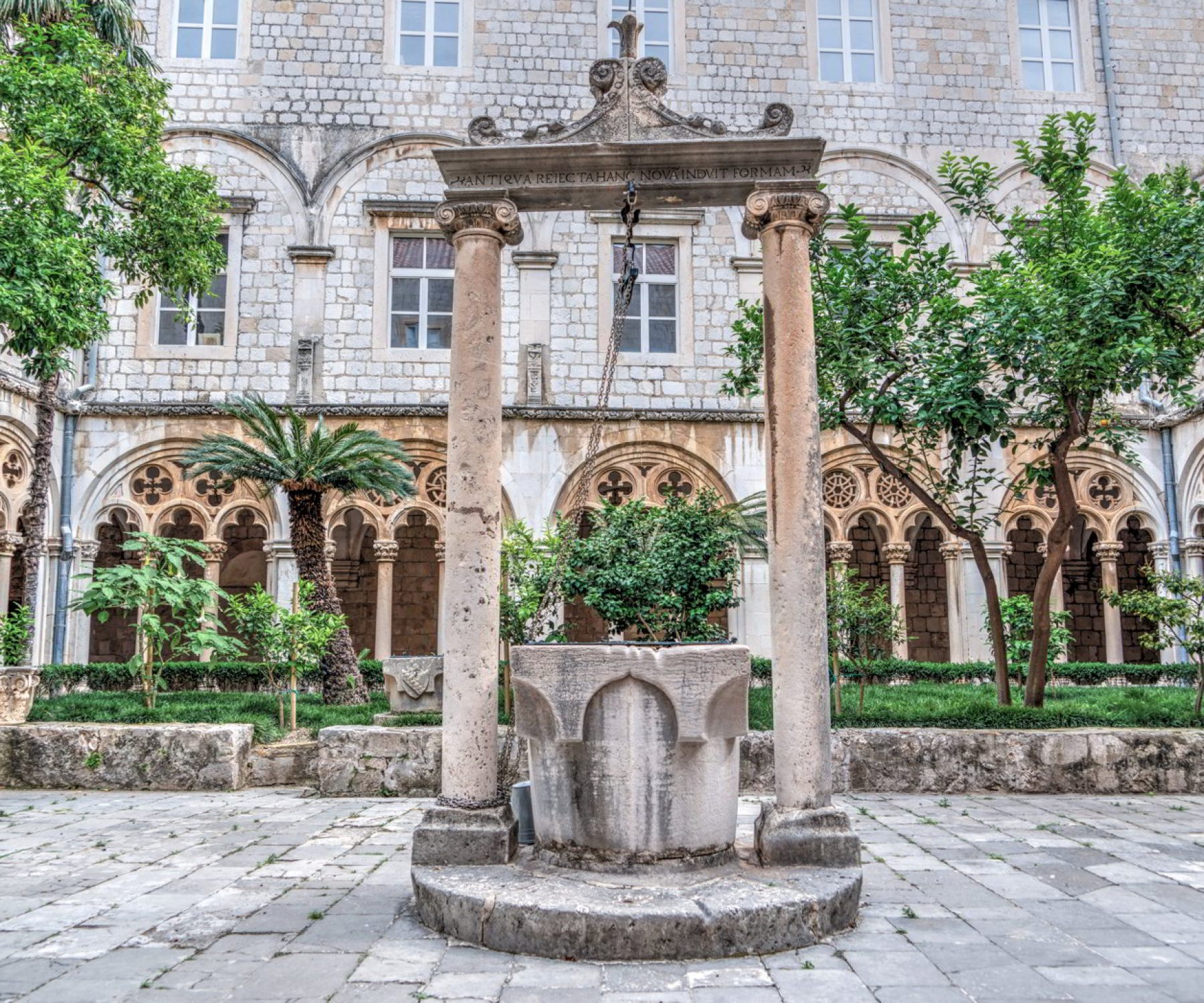 LOKRUM
Lokrum is an island situated 15 min boat ride from Dubrovnik Old Town. It is known for its untouched nature, lush green pine forests and crystal clear sea. It has also an arboretum with cultivated gardens. Most famous one is palm garden on the southern side of island. There is an ancient Dominican monastery which offers perfect backdrop for your ceremony. Of all the Croatian wedding venues, Lokrum is specific because there are no inhabitants on the island (by design, not by chance), so it has this relaxed sunny vibe and as far as weddings go, it's very much off the beaten path.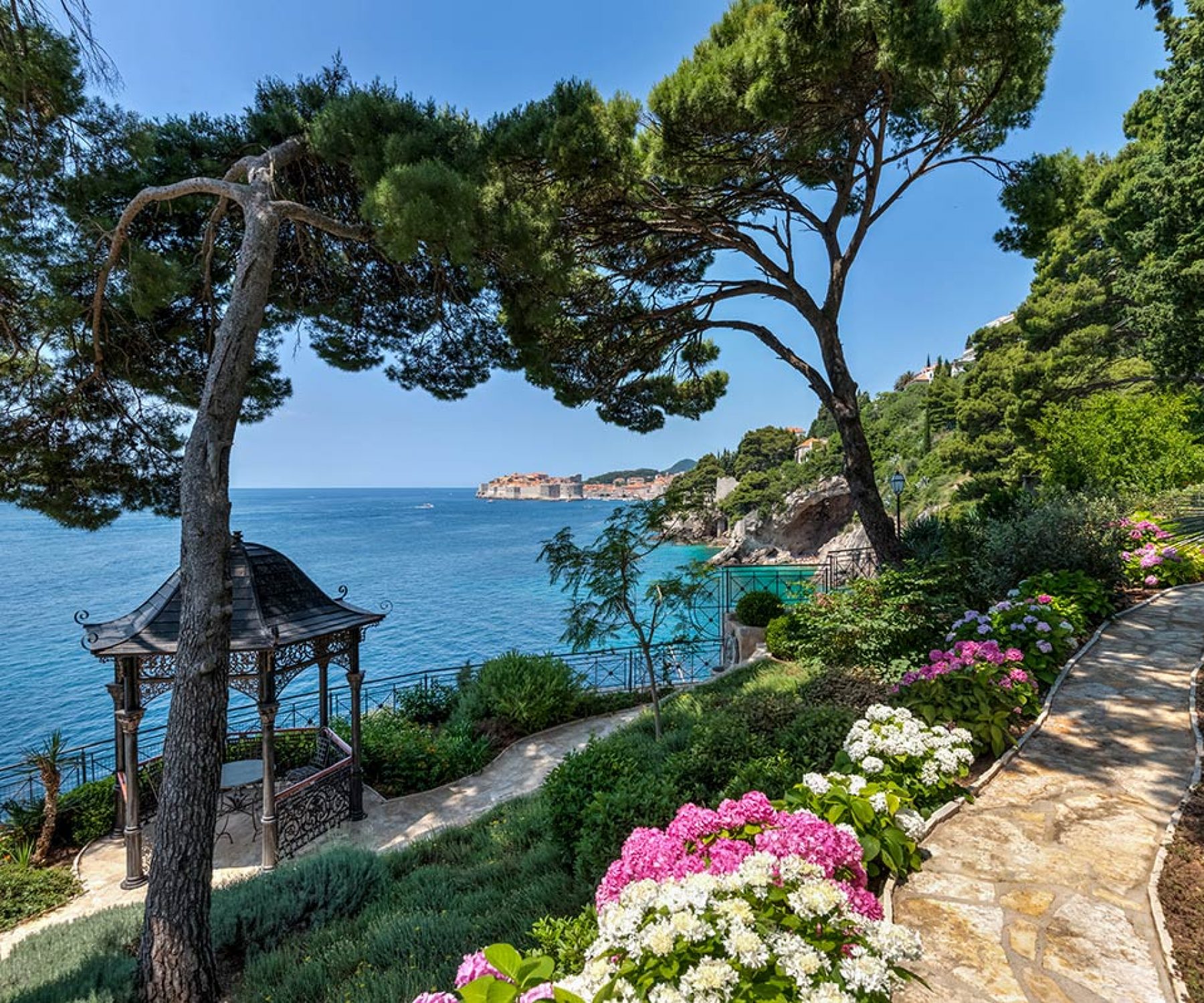 KOLOČEP
Koločep is the first in the series of Elaphiti islands in southern Adriatic, taking around half an hour to reach by boat. It's a really small island, just big enough for two villages and around a million pine and olive trees. It's small, quiet and like Lokrum has no inhabitants. There are amazing walking paths through its makija bushes and pine trees leading to some spectacular places like Bezdanj, a natural cave connecting open sea with a small pool amongst the rocks.
LOPUD
Second of the Elaphiti islands, Lopud is another hidden gem among Croatian wedding venues, taking around 1h to reach by boat. It's still close enough to be practical, yet far enough that most of the tourist crowds won't bother to reach it. Just like Koločep and Lokrum, it's inhabited. It is made of untouched nature and walking paths. It's also home to the largest sandy beach in the southern Adriatic – Šunj. There are couple of locations in Lopud for wedding ceremonies such as waterfront church Gospa od Šunja and its garden or the botanical garden for a civil ceremony or numerous of island villas.
ZADAR
Zadar is is the oldest continuously-inhabited Croatian city that features a beautifully preserved old city core on a small peninsula, complete with stone streets, houses and churches. There are amazing stone courts between houses, rose bushes, rustic gardens and ornamented balconies. Zadar is famous for three things. It is said to have the most beautiful sunsets in Europe. It features Monument to the Sun (a mixture of artistic installation and photovoltaic panels built into the stone). And finally, it's perpetually bathed in the sounds of the sea organ which the incoming waves randomly play, creating a cacophony of notes that varies with the weather and winds. Zadar's Arsenal is actually an old armoury converted into a reception venue/museum and it is very popular for weddings.
Find your villa in Zadar here.
HVAR
Hvar is among other most popular Croatian wedding venues.It's famous for being the sunniest island in the Adriatic, with mean yearly sunshine hours simply off the charts (more than 2.700!). Hvar is known for its local delicacies and wine, but also its party and club scene, making it the ultimate destination for hedonists and younger crowds. Most popular ceremony venues include church of St. Mark's and the Franciscan monastery. Both are secular venues for civil ceremonies. You can also pick different types of venues such as op of mount St. Nicholas or Gališnik island just outside main port of Hvar. Considering the fact that Hvar is a filled with tourists during the summer season maybe you can pick a wedding date in late spring or early autumn when the weather is warm enough and its lavender fields are in full bloom, colouring the air with the aroma of ripe lavender flowers and the buzz of bees fiesting on the sweet nectar.
Find your wedding villa on island Hvar here.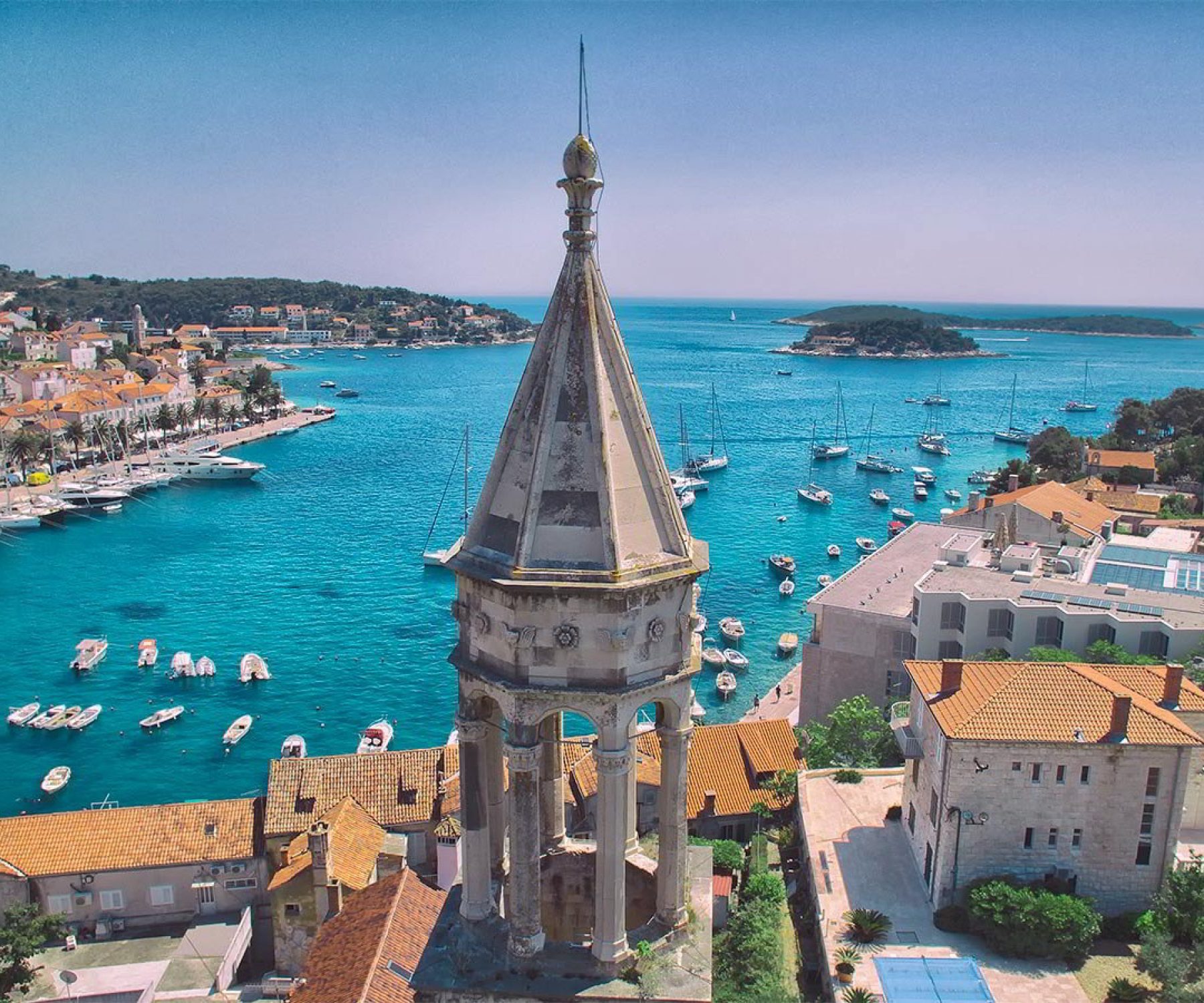 KORČULA
Korčula is big Croatian island and one of those lesser known Croatian wedding locations that rightly deserves the title of the hidden gem of Adriatic. Korcula is the home of high-end olive oil and wine in Croatia, which goes hand in hand with its fish-based cuisine, all of which are guarantees of an unforgettable wedding dinner. Korcula has a number of smaller islands very near it, if you really want to get away and have an island just for yourselves. Prime examples are island of Proizd (just off the west coast of Korcula) and islet of Vela Stupa (on the eastern side of the island). Proizd can be turned into a private island after dark, when the last official boat returns to main island — all you need is a private boat to take you back after you're done partying in the island's only restaurant.
Find your wedding villa on island Korcula here.
MAKARSKA
Makarska is a small town under the huge mountain of Biokovo in southern Dalmatia. It's very popular in the peak season, but a great place to get married in late spring and early autumn if you're looking for something that isn't as logistically demanding as an island wedding. The contrast of the majestic mountain peaks on one side and Adriatic on the other is just perfect, often spiced up by cotton-white clouds hanging about. There's also plenty of accommodation for any size of your wedding party, whether it's hotels or villas you're after.
Find your wedding villa in Makarska here.
VIS
Vis is island of vineyards that bursts with authenticity. It is distanced from Split port around two and a half hours ferry ride. Food there is equally par excellence, based in large part on locally caught seafood. The most famous wedding venue on island Vis is fort George, an old British fortress on top of a hill turned into a fine restaurant. Pine trees on the main terrace create amazing natural shade, which is very much appreciated during hot summer months. There is also Komiža, a town well worth visiting at the other end of the island, even smaller and beautifully picturesque. If you're after an experience for you and your guests, starting with a long sail among Croatian islands to all kinds of tasty and authentic experiences, island of Vis is a great pick of your Croatian wedding venue.
Find your wedding villa on island Vis here.
BRIJUNI
On the southwest part of Istria is truly one of the treasures. It is made od 12 small islands on which from ancient times were located many luxurious villas and estates. It is also a national park and it is said that Brijuni are true oasis of well synchronized wildlife. There are many attractions and beauties in the offer of this park. You can take a tourist train ride trough safari-park, see luxurious villa in bay Verige, see some of the exhibitions that are set up there and maybe take a trip to archaeological museum. Brijuni are truly one of the most magical places for organizing a wedding. Imagine that you are exchanging vows in the fabulously decorated St. German's Church from the 15th century to the romantic sounds of the flute and violin, while your loved ones are next to you. You can take photographs at important archaeological sites, alongside the 1600-year-old olive tree, in a picturesque Mediterranean garden or in one of the numerous bays with crystal clear waters, filled with strong scents of pine and laurel.
Find your wedding villa in Brijuni here.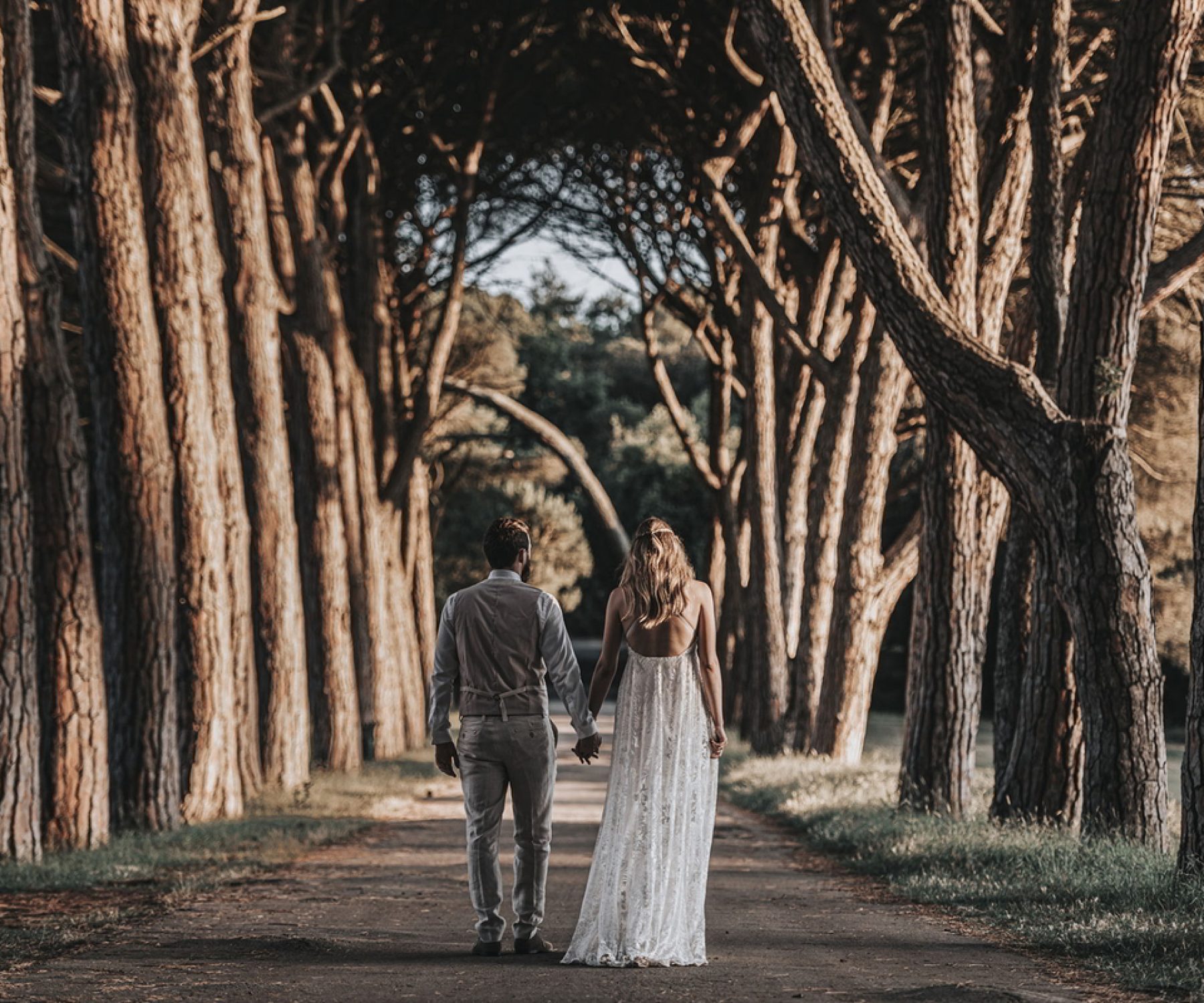 RAB
Island Rab is situated up north on Croatian coast. Town of Rab is known among its residents as the "small Dubrovnik", with a bit of city walls creating a barrier on the small peninsula it's situated on. What it lacks in extensive city walls, it more than makes up with the beautiful shallow turquoise waters and long walking trails along the sea. The whole island is relaxed and slow paced, perfect for those who are seeking peaceful wedding vibes.
Find more about Croatian destinations here.