Croatia's top destinations in 2021
Traveling around Croatia guarantees you a unique and memorable holiday experience. While everyone has now heard of Split, Zadar, Sibenik and Dubrovnik here are some of the less famous, but equally beautiful destinations.
Ston
Ston is a small town on Peljesac Peninsula, situated about 54 km from Dubrovnik. Ston is by and large known for three things – its very well preserved town walls, its salt works, and its mussels. The walls are much longer than those of its more famous neighbour, Dubrovnik, at 5 km in length. This makes them the longest defensive structure in Europe; they are sometimes referred to as the 'European Walls of China". It is known as a gourmet paradise. From archeological traces the waters of Mali Ston bay from ancient times, cultivated oysters and ate in honor of Aphrodite, the goddess of beauty born from shells.
Book our villa in Ston here.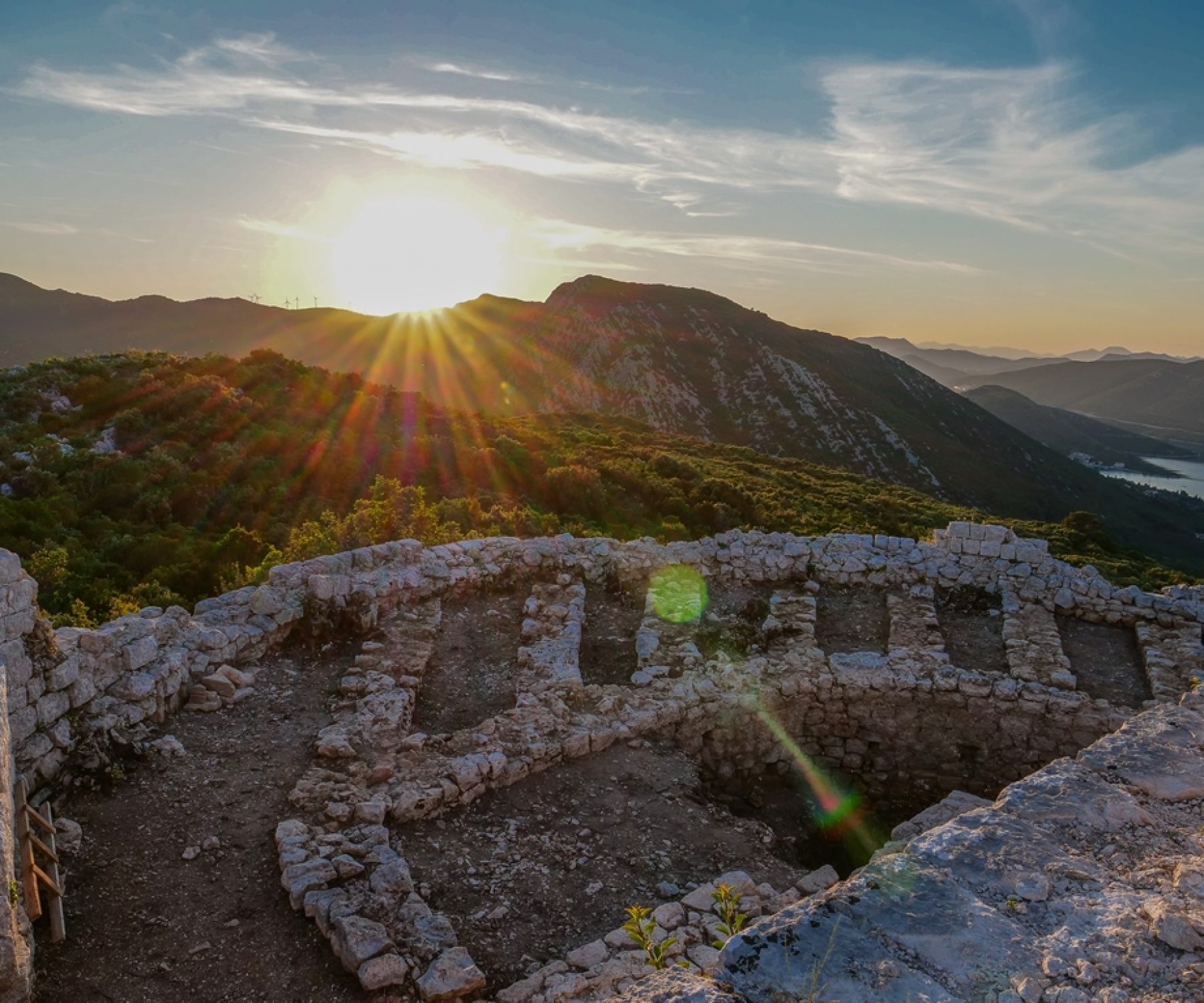 Milna on island Brac
Milna or as the Venetians called it "Valle di mille navi" (the bay of a thousand ships) is located on the north-west side of the island. Milna is one of those typical Mediterranean fishing villages they don't make anymore. Lying on the west coast of Brac Island and 20 km southwest of Supetar, the harbour of Milna is drop-dead gorgeous as it digs into the island like a spoon. To each side of the harbour stretch sand and pebble beaches including the cove of Vlaska. Stone houses along the beautiful long coastline are small masterpieces of plebeian architecture.
Book our villa in Milna here.
Island Vis
In many ways, Vis is the most fascinating of all the Croatian islands. You should visit Vis primarily for the reason that the island was closed to tourism for so long, but also because of its location, it's often considered somewhere for an "off-the-beaten-track" holiday in Croatia or a great place to go to try something a bit different – especially for a peaceful and relaxing break. Along the coast of the island of Vis there are numerous small bays and coves, with modern houses which offer private accommodation in apartments and holiday houses. If we add to this unique historical, cultural, and natural heritage the beautiful crystal clear sea, stunning hidden beaches, bays and islands, kind hosts and comfortable accommodation in private houses and apartments , it is clear why Vis is the favourite tourist destination for those visitors who want to try the unique and almost gone authentic Mediterranean environment and way of life. Viška and Komiška pogača (pies Vis or Komiža style), the two savoury queens of the gastronomic side of the island, are favourite and unavoidable traditional island dishes. Pogača is a type of a savoury pie, made of dough, salted anchovies or sardines, fine tomato stuffing, onions and fresh herbs.
Book our villa on Island Vis here.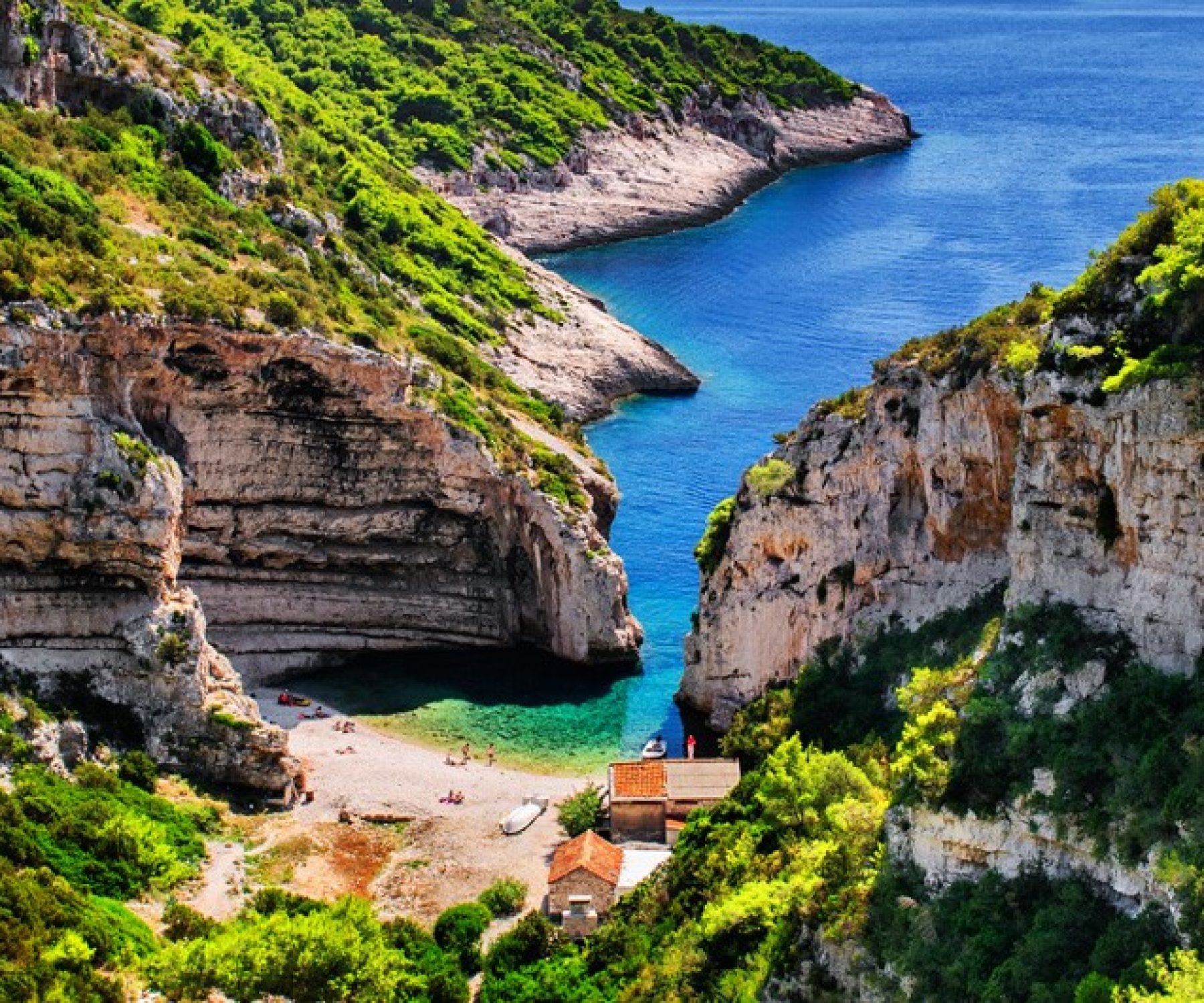 Primosten
Primosten is a small town located between Sibenik and Split. Primosten attracts tourists with its interesting architecture, beautiful beaches and crystal clear waters. One of the main sights is the 15-century, white stone Church of St George, and its belltower and cemetery. The Our Lady of Loretto statue – a shrine to the Virgin Mary – is located on Gaj hill, above Primosten. At 17 metres tall, it is an impressive structure although the site also offers wonderful views to the town. There is an excellent selection of fish, seafood and steak choices, as well as the carpaccio or tuna tartare. Do not forget sampling some Croatian wine from their fantastic wine list!
Book our villa in Primosten here.
Jelsa on island Hvar
The town Jelsa is located in the middle of the island of Hvar and is mild, clean and open hearted to the guests and travelers. Jelsa offers such diverse scenery – pine tree forests, vineyards, lavender fields, olive groves and crystal clear sea. There are beautiful beaches there as well. Make sure you don't leave Jelsa before trying local wine and fish – you can procure it through local fishermen and make yourself the healthiest possible meal at your island home. This beautiful island town also offers various opportunities for recreation and sports – from long and relaxing walks by the seashore to cycling, diving, mini-golf, fitness, European football, basketball, tennis, bay fishing or surfing in Vrboska.
Book our villa in Hvar here.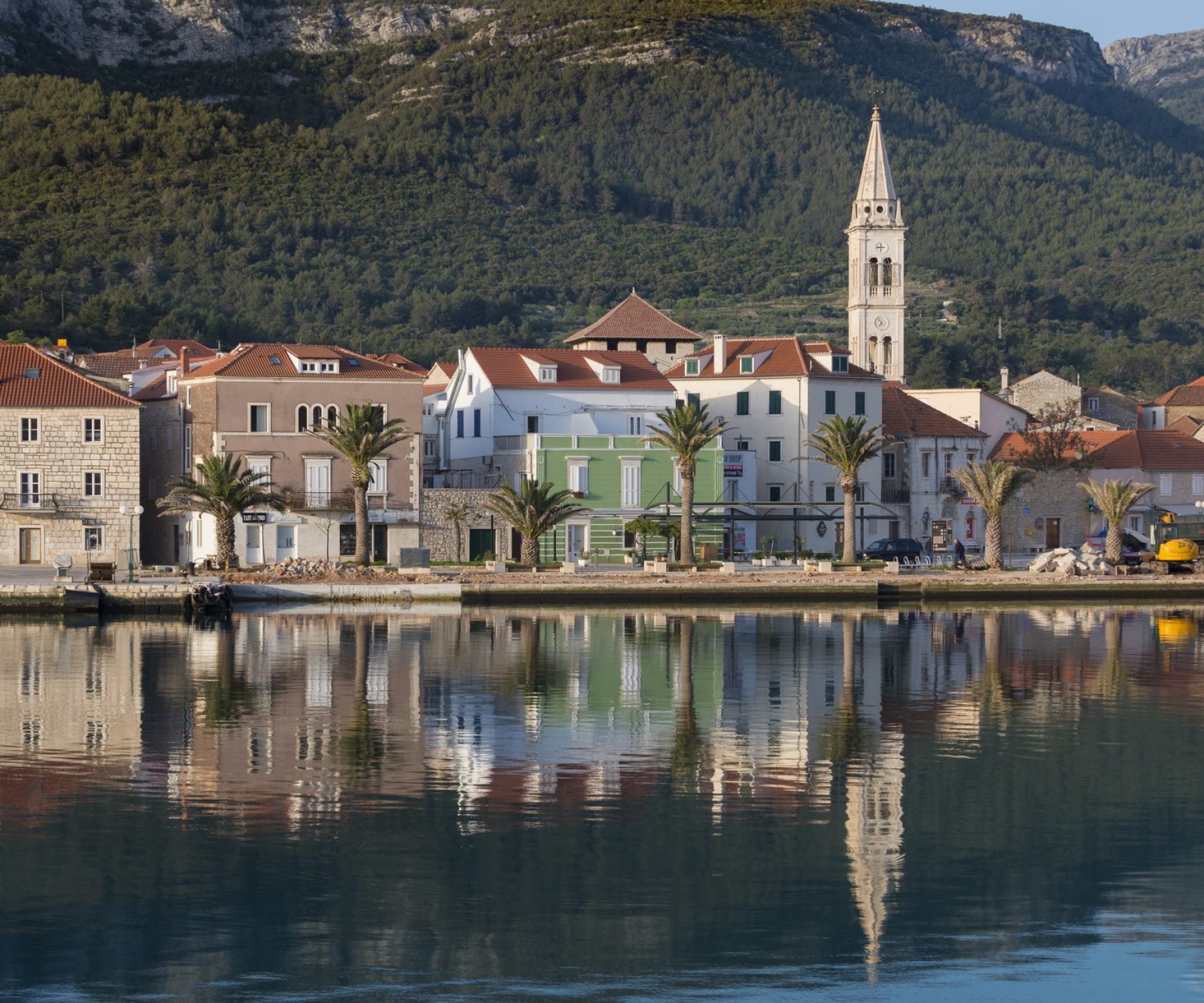 Labin
The medieval town of Labin is situated on the hill above Rabac. The rich cultural and architectural heritage of Labin is enlivened by number of art ateliers and by the bustling youth gathering in the coffee bars scattered around the old town. The Old Town is very colorful, offering interesting architecture with Baroque, Renaissance and Gothic elements in many churches, palaces and houses. On the top of the hill, in the old town, there is a fortress Fortica. From there you can enjoy lovely views over Rabac, sea and the Island of Cres.
Book our villa in Istria here.
Omis
The town of Omis is settled in centre of southern Croatian region of Dalmatia. It is right at the place where the river Cetina enters Adriatic Sea, just over twenty kilometres from country's second biggest city of Split. Once a famous pirate town in the middle ages, Omis town's economic prosperity was born from piracy. Major attractions in Omis include its beautiful beaches, perfect pebble bays, steep cliffs, and crystal clear seas. Other great attractions not to be missed are Radmanove Mlinice and Gubavica waterfalls on the crystal clear Cetina River. If you like adventure, head to the Cetina River for a day of rafting or swing like a monkey on the super-fast Zipline. The nature surrounding Omis makes the circumstances ideal for active holidays or adventure tourism. This is a right destination for you in case you like rafting, canyoning, free-climbing or any similar activity.
Book our villa in Omis here.
Crikvenica
Crikvenica is a small coastal town in the region of Kvarner. It is well known for its mild climate and clean air, and people go there to seek relief from illnesses such as bronchitis and asthma. There is also a lovely beach there which is over 1 mile long. The Crikvenica Town Museum houses collections of items from Crikvenica and the nearby region, including pieces of archaeological and natural history interest. Crikvenica Aquarium has thirty pools that mainly house Adriatic fish species (you'll find over one hundred here) but also some tropical fish species as well. Gastronomy in Crikvenica is based on fresh ingredients from this area.
Book our villa in Crikvenica here.
Motovun
With its elegant system of towers, walls, gates and piazzas, the hilltop village of Motovun in Istria is a striking example of Venetian colonial architecture. If you are looking to take an out-of-season vacation in one of the most picturesque and best places to visit in Croatia, skip the summer touristic hotspots and leave behind the big city, Motovun is for you! The damp, dark Motovun Forest at its base also has a mythical quality, especially as it contains hidden treasure in the form of Istria's famous truffles. If you visit during the last week of July or the beginning of August, don't miss Motovun's International Film Festival, which presents independent and avant-garde films from the U.S. and Europe.
Book our villa in Motovun here.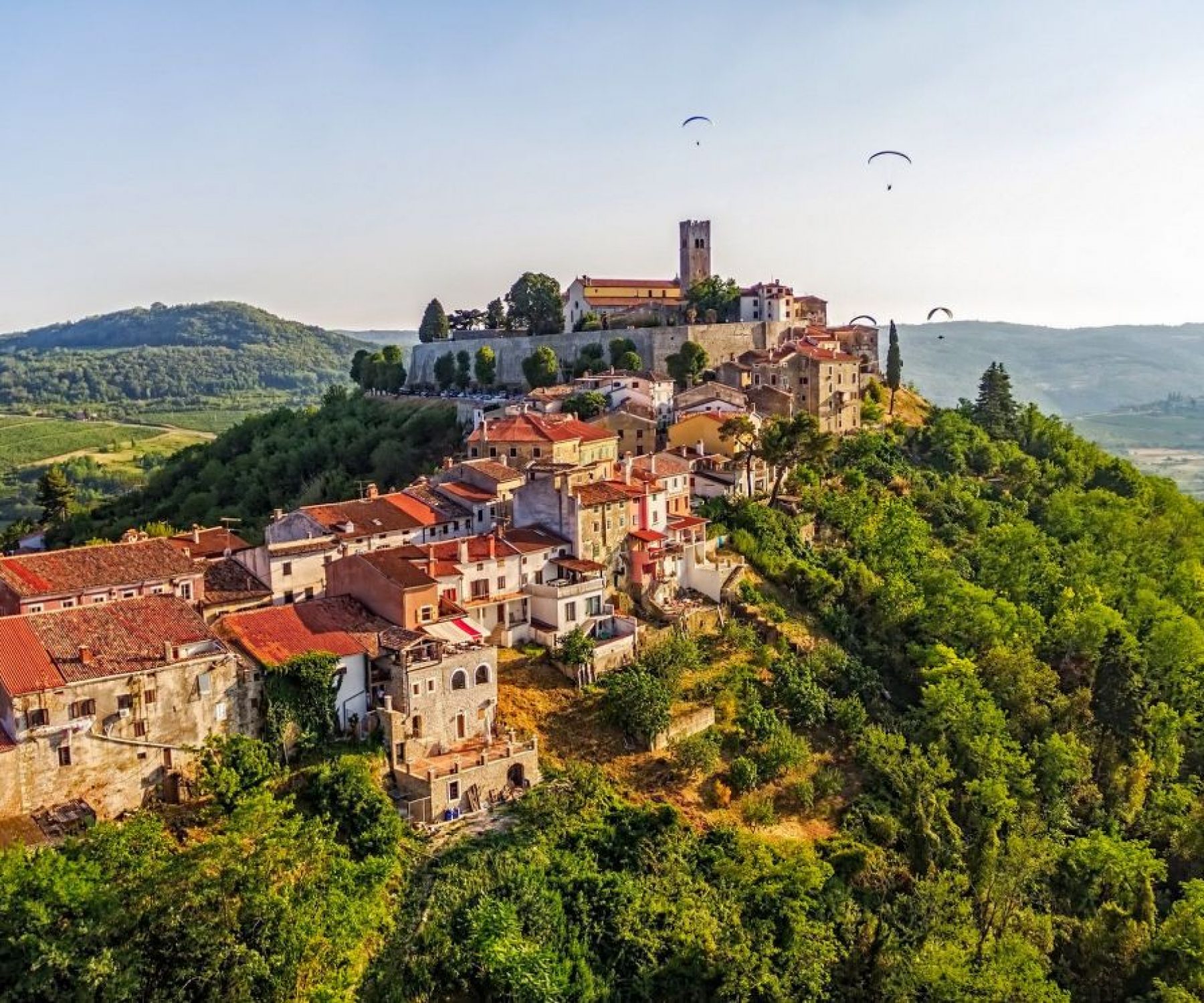 Vinisce
Vinisce is a small quiet fishing town located in a beautiful bay of clear sea and untouched nature, only 12 km from Trogir. If you're after the best place to go in Croatia for beaches that are secluded, clear, and downright beautiful, then you won't be disappointed here! You can enjoy sailing and jet-skiing during the summer months, as well as swimming in the safe waters. There are also many historical sites to check out around Vinisce, including the Church of the Blessed Virgin Mary, the Church of St Antun of Padua, and St John's Church. The combination of beautiful and quiet beaches, along with history and Croatian culture, makes Vinisce a real hidden gem, and let's not forget the traditional cuisine to be tasted around here, too.
Book our villa in Vinisce here.
Find your route to these amazing destinations here.